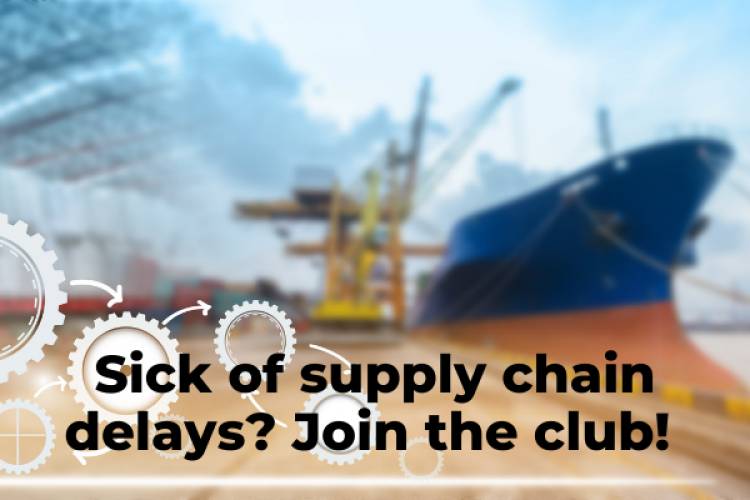 Sick of supply chain delays? Join the club!
Things are getting back to normal more and more, live events are back, and the promotional industry can function yet again, right? WRONG. May I introduce the newest roadblock as a parting gift of the lovely coronavirus: supply chain delays.
The promotional products industry obviously relies on products from overseas, which belies the use of cargo ships to carry these products and materials to our businesses. Well, there's good news and there's bad news. The good news is that people are doing things again! And what do people need when they do things? Promotional products! Now, the bad news. These cargo ships, from places like China, only have a certain amount of space, causing your shipping costs to go through the roof, and in turn, prices of products having to go up overall to make up for this inconvenience.
There is only a certain amount you can control here (unless you build cargo ships…in which case, call us!). The great thing about us in the print and promo industry is our resourcefulness! We are great at solving complex, time-sensitive issues, quickly. To minimize your unsystematic risk, it is important to practice transparency with our consumers, suppliers, and partners. No one's situation is identical, and thus, everyone has different product and order needs. The solution to supply chain delays is not one-size-fits-all, so let's not treat it like one!
Now more than ever, our customers expect fast, efficient, and simple service; you simply cannot waste precious time and energy babysitting your orders. Do yourself a favor--let us do that for you!
OrderForge was designed to streamline your supply chain and avoid unnecessary obstacles. We are built for individualized service and adaptability by ensuring our customers are running their businesses as efficiently as possible.
We can't fix the skyrocketing shipping costs, and we certainly cannot build you a cargo ship. But we can help you navigate your way through the supply chain disruptions and say yes to all your customers' demands! Schedule your free consultation with a Foundry Commerce expert today to discuss how OrderForge can streamline your supply chain today!