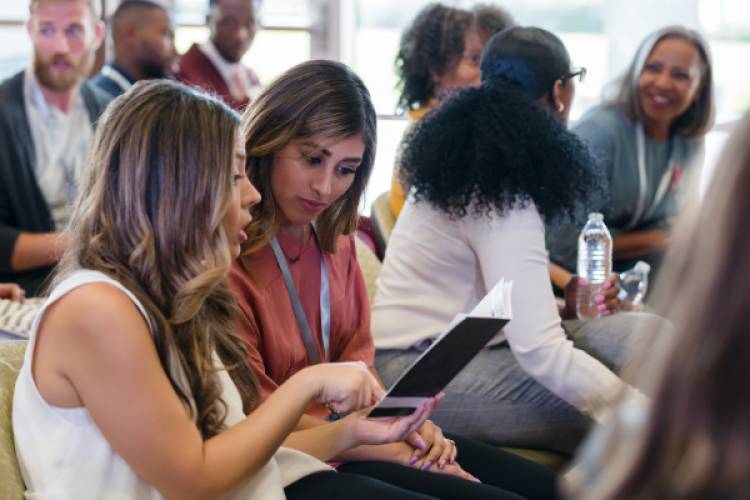 5 Smart Tips to Plan for Upcoming Conference
Conferences are still teetering on whether to be in-person just yet. So, when planning for an upcoming conference, it's important to be flexible as details and logistics of conferences are changing up to the last minute. Here are some tips to think through when prepping for you next big event!
Familiarize yourself with the COVID protocol for the conference. Many are requiring proof of vaccination and/or a negative test to even attend the conference. Although there are other factors to consider such as mask protocol, availability of water and snacks throughout the conference, and social distancing rules. All these aspects affect what you can do as a sponsor and as an attendee so make sure you fully understand and follow the event's rules.
Go touchless. Let's face it, when you hand out flyers, brochures, and business cards, many end up in the trash anyway. Now we have the added challenge of people not wanting to even accept them in the first place to cut down on germ transfer. Many events are going paperless anyway so it's best to just embrace this aspect. (Sorry printing companies!) But don't worry there are still plenty of creative ways to get your messages across. Email campaigns before and after the event can keep your brand top of mind and do the job of educating your audience without the intrusive paper trail. Once in person – make sure you have your contact info saved in your phone so you can quick share it with a new connection, or even spring for a digital business card or a QR business card to share on the go.
Be strategic with giveaways. Our advice is to stick to useful and/or unique giveaways that people are going to hang onto. We all know the tried-and-true favorites like a nice water bottle or pen. But our needs have changed in recent years so maybe switch to a hand sanitizer or a pack of hand wipes that you know will get good use during the event. Want something with a little more longevity? Try a branded journal to keep your to-do list in or noise canceling headphones to drown out your kids while working from home! If considering an edible giveaway, just double check with the conference that this is allowed.
Plan ahead. With social distancing in place, networking isn't as easy as it used to be. (Ha just kidding networking has never been easy – but now it's harder!) You may not have quite as many cocktail hours to casually bump into your latest target company crush. Be strategic about who you want to meet and go into the meeting with a plan. Most conferences provide pre-attendee lists that you should familiarize yourself with and prioritize who you really want the opportunity to meet. Reach out to those people before the event and schedule a time to meet for coffee or to sit together at a session. Many people attend these events solo so it's always fun to have plans!
Focus on the follow up. As much as you can plan, you must expect that things aren't going to go accordingly. I mean, if the past two years have taught us anything, it is to expect the unexpected. So make the follow up part of your strategy for targeting your prospects. Plan that you are not going to get face-to-face with everyone you want, or be able to hand out your sweet zip-up hoody to everyone you want rocking your brand. But guess what – nothing is stopping you from doing that after the fact. In fact, a handwritten note saying "sorry we never got to catch up" along with a thoughtful giveaway or gift card for a coffee can go a REALLY long way. We all like mail when it's not garbage! Have a thorough follow up plan after your event that includes multiple ways to reach back out to those you did meet, and those you didn't, in a personalized way.
With all these great tips to plan for your upcoming conference, you will undoubtedly have new clients rolling in any day now. With growth comes the need for streamlining your operational processes so that you can accommodate the new business. If you want to discuss your technology solution and how you can optimize your efforts be sure to fill out our contact form to schedule your free consultation today!